30 years of communication design, branding, packaging and images --- FR --- ENG ---
CONTRASTE
Experienced designers who bring you more for your investment.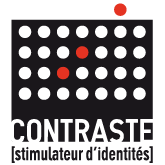 But what is the [CONTRASTE]?
CONTRASTE n.m. ( ital. contrasto, lutte ) opposition between two things that are enhanced by their juxtaposition. ◊ By contrast, in contrast: versus. IMAG. MED: A contrast: substance injected to make some bodies opaque to X-rays
CONTRASTE, E adj. which contrasts are marked accused. A photograph mixed.
CONTRASTER v.i. ou v.t. ind. ( avec ). Oppose strikingly, be in contrast. This architectural concept contrast with these old houses.
◊ vt To contrast, in an artistic or literary work.
In his painting, she has contrasting figures. ◊ Contrast photograph, picture: accentuate contrasts between light and dark parts ...
Experience:
The experience CONTRAST was forged for 30 years in such fields as diverse as European Programmes for the development of commercial and technological relations between Europe and Asia, the ACP (Africa-Caribbean-Pacific), biotechnology, the banking world, food, beverages, computer expertise, the art, the world of photography, sportswear, institutional and political communication, associations, real estate, development cooperation , pharmaceuticals, media, technology information, air navigation, cosmetics ...
Some references : portefolio.html